BLACK NOUGAT FROM PROVENCE: THE STAR OF DESSERTS
Do you know the black nougat,
star of the thirteen Provençal desserts?
Traditionally, in Provence, at Christmas time, there are thirteen desserts on the table: oil pump, fougasse, walnuts, hazelnuts, candied fruits, apples, pears, oranges, fresh grapes, cooked wine, dates, fruit pastes, and, of course, black nougat! Black nougat from Provence is certainly the star of desserts during the festive season, but why be content to eat it only during this period?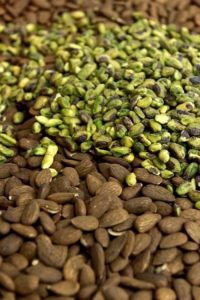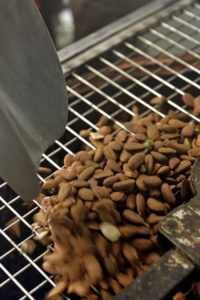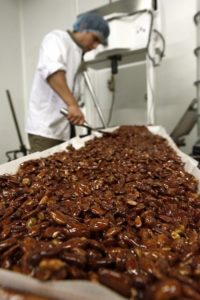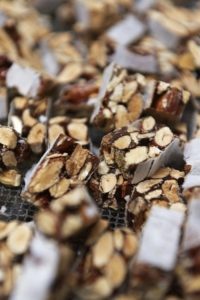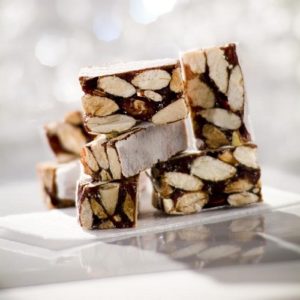 Black nougat from Provence: discover our products
We know the nougat from Provence by heart: it is our specialty, our core business for a century. Our black nougat has a touch of all-flower honey, combined with the generous flavour of almonds. Something to delight your taste buds and your senses! The recipe we use to produce our black nougat is unique and used for generations in Provence.
The black nougat is perfect at Christmas time of course, but also to have a little pleasure with a good coffee. It is also a small gift to bring back to your family or colleagues when you return from Provence: it is always a pleasure!
Although we are committed to tradition and product, we maintain a young identity and seek innovation. That's why we developed a black nougat cream. It is perfect for breakfast, to spread on fresh bread toast; you can also enjoy it without moderation at snack time.
Our black nougat cream can also be used as a base for pastry recipes such as nougat brioches or an apple/nougat crown.
Black nougat from Provence: the speciality of Roy René
Our Confiserie will soon celebrate its 100th anniversary: soon a century that we produce black nougats and other confectionery in Aix-en-Provence, in the purest tradition. Originally Le Roy René produced only nougats, emblematic products of the South of France, before expanding its activity thereafter with calissons and other Provençal biscuits.
The nougat is a very old product, which would exist since more than a millennium according to certain sources. It is thus a widespread confectionery throughout the world but the quality of the nougat of Provence, in particular that of our House, remains incomparable!
The recipe of our black nougat is traditional and ancient, but we innovate by producing moose nougat.
We always offer new recipes of nougat reinvented to satisfy all lovers of confectionery: discover our raspberry, coconut caramel or pistachio nougat !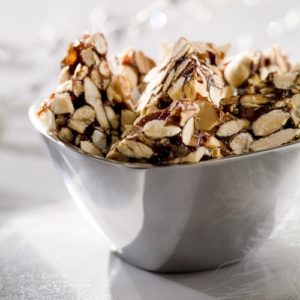 You can order your nougats directly online as well as all our products. You can also visit us in one of our fifteen shops. We are present in three countries: France, Israel and the United States. You can meet us mainly in the southern half of France, but we also have shops in Paris and Lille.
If you have any questions or complaints about our products, please do not hesitate to contact our teams.