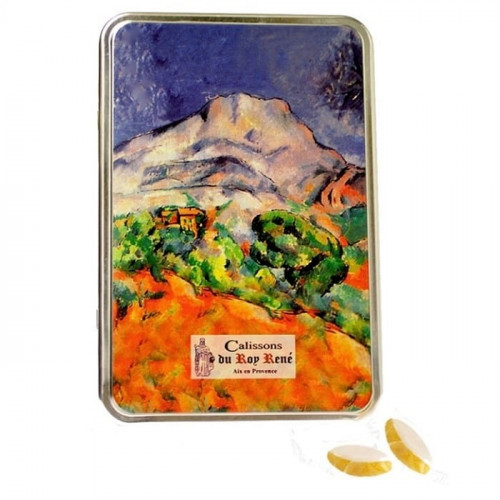  
CEZANNE METAL BOX OF LITTLE CALISSONS
Box of 180 g (86,11€ / kg)
The work of Paul Cézanne illustrated on a pretty souvenir box containing individually-wrapped little calissons.
Ideal with your coffee, for a gourmet break in the day or just to share.
Flavour : almonds
This box is made up of about 28 small calissons.
Le Roy René petits calissons


Calissons are available in a small size, ideal for relaxing breaks, tea or coffee. Plain or fruity gourmand: fig, raspberry, violet, lemon, orange, chocolate hazel ... a host of small pleasures - eat as many as you like.





A box of Calissons d'Aix in honour of Paul Cézanne



Metal box inspired by Paul Cézanne's paintings of Sainte Victoire, thr emblem of Aix en Provence. At the beginning of the 20th century, Paul Cézanne's life was turned upside down. At this point, he sets himself the goal of painting the Sainte Victoire mountain; a highly symbolic place for him and for the inhabitants of the region. He will create his work in his Lauves studio, acquired in 1902 in the North of Aix en Provence. This mountain will be his muse for him. He said he wanted to die while painting. He died in 1906 as a result of a disease contracted in the pouring rain while painting the Montagne Sainte-Victoire.



 



Le Calisson se décline en petit format, idéal pour accompagner les pauses détentes, thé ou café. Nature ou fruités gourmand : figue, framboise, violette, citron, orange, chocolat noisette … autant de petits plaisirs à consommer sans modération.



 


Une boîte de Calissons d'Aix à l'honneur de Paul Cézanne


 



Boîte en métal inspirée de la Sainte Victoire de Paul Cézanne, figure emblématique d'Aix en Provence. Au début du XXème, la vie de Paul Cézanne est chamboulée de fond en comble. À ce moment là, il se donne comme objectif de peindre la montagne Sainte Victoire ; lieu hautement symbolique pour lui et pour les habitants de la région. Il créera son œuvre dans son atelier des Lauves, acquis en 1902 dans le Nord d'Aix en Provence. Cette montagne sera pour lui sa muse. Il disait vouloir mourir en peignant. Il s'éteint en 1906 des suites d'une maladie contractée sous une pluie battante alors qu'il peignait la montagne Sainte-Victoire.