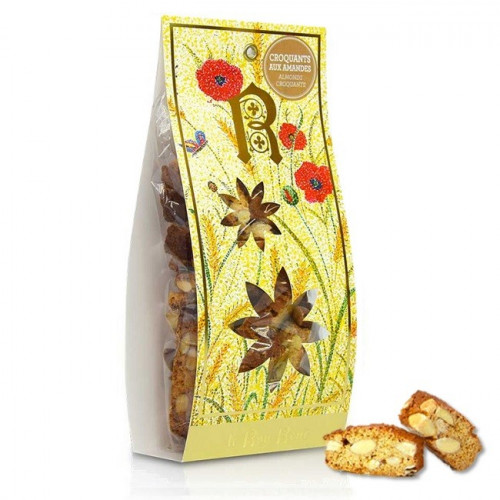  
ALMOND CROQUANT BISCUITS
 Out-of-Stock
Bog of 220 g (45€ / kg)
Fall for the croquants from Provence from Le Roy René. Made of almonds and honey, they can be enjoyed at any time of the day.
Flavour : almond
Le Roy René biscuits


Croquants, Navettes and Macarons are all part of the Provençal biscuit heritage. Crispy, soft, melting, appetizing, tasty ... these "Made in Provence" biscuits  can be enjoyed at any time of the day, on all occasions. Eat as many as you like!


Croquant from Provence


The croquant is a typical Provençal dry biscuit. It comes from an ancestral recipe whose history is linked to the persistence of the almond tree in the Provencal landscape.

Often eaten at parties, it is one of the thirteen Provencal desserts.



Made with artisanal organic flour, lavender honey and whole almonds. It is baked twice (hence the word "biscuit"), once for cooking and another for browning the crunchy pieces that have just been cut. It is a biscuit that is eaten on all occasions in Provence. It keeps very well and remains crunchy.