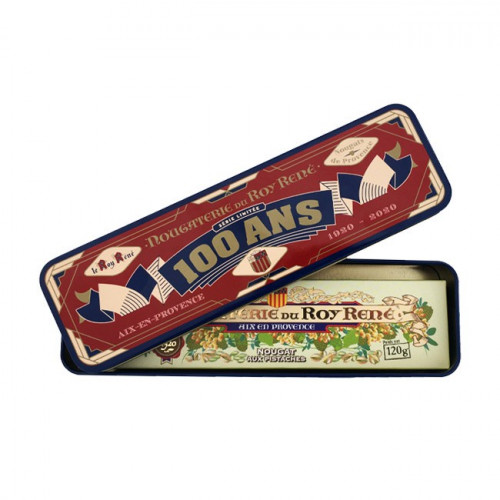  
Box Plumier Nougat Pistachio Limited Edition 100 ans
On the occasion of the 100th anniversary of the Confiserie du Roy René, the 120g Calisson nougat bar comes in a new pencil box.
A Limited Edition 100 Years Old Pencil Box with a Pistachio Nougat Bar
Discover the fancy pistachio nougat bar in a new Limited Edition Pencil box. Rediscover tradition and delicacy through the 100 years old Pencil Box with the aesthetic codes of the 20th century, plunging us between Art Nouveau and Belle Époque.
A strong commitment for the 100 years of the Confiserie du Roy René.
All the calissons in this very special series are made with 50% almonds from Provence, which illustrates the actions carried out by the Confiserie du Roy René to revive almond growing in Provence.
Nougat bar 120g (74.17€/kg)